When I was growing up in the South, I thought it was some kind of tradition for Mothers Day where adult children visited their mothers and built them a garden. See, in my family, that's what it felt like. In early May, we'd pile in the car and visit my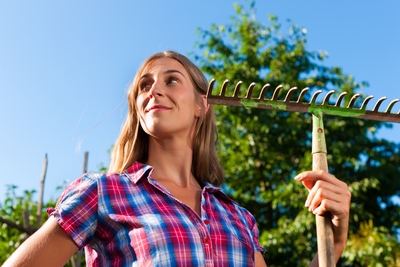 Granny. On Saturday, my uncles would get good and dirty in the yard, clearing out the winter growth and get it all tilled up and ready for planting.
As an adult, I realize this isn't nearly as common as I'd thought. Oh, I'm sure there are still great kids who spend a weekend getting their mother's garden ready for planting. But I also think it's because younger and younger moms are doing more gardening. And it's no surprise. Increasing uncertainty around food safety and the homestead/DIY movement catching on, it's no wonder more households are growing their own veggies and fruits.
Mothers Day Giveaway:
To celebrate all the Gardening Moms out there, we're having a special Mothers Day gardening giveaway. It's super easy to enter! Just show us your garden, and you can win a whole bundle of goodies to get your garden growing in the right direction: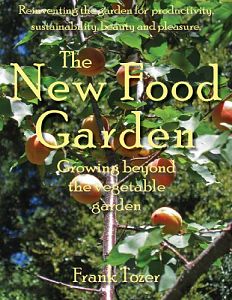 The New Food Garden
, signed by Frank Tozer himself,
and chock full of great info!
A $25 gift certificate for Peaceful Valley,
for all the seeds you'll need!

To enter, show us your garden layout:
Share your garden on the Smart Gardener site. Just click the "share" tab at the very top, to the right of the name of your garden.
That'll bring up a window where you can make a note about your garden, add photos, add tags, and set whether it's private or public.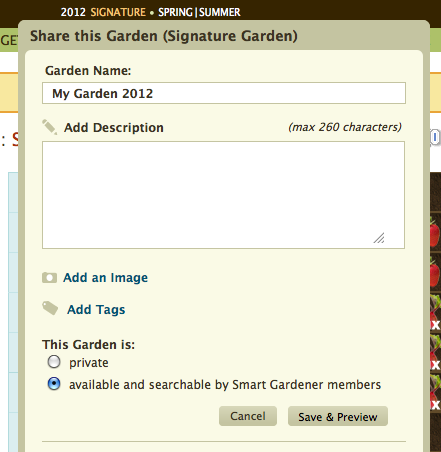 To make sure you're registered in the contest:
1 entry: You can upload a screen shot of your garden to our Facebook page. Make sure you include your name and the name of your garden.
1 entry: Tweet us the link to your garden @smartgardener1, make sure to include the name of your garden.
1 entry: Reply to this blog post with the link to your garden, your name, and your garden's name.
Extra credit:
5 entries: Share a link to your own blog showing off your garden layout on this blog, our Facebook page, or twitter.
Drawing:
All the entries will be placed in a spreadsheet and assigned a unique number. One winner will be chosen by random using random.org. The drawing will be held Sunday, May 13, at 6 pm Pacific. The winner will be announced as soon as he or she is notified.
So, get started sharing!
And good luck!