This is the first post in a series we're calling Ask a Gardener,
where you get to ask our resident experts your gardening questions.
Feel free to send questions to gardener@smartgardener.com.
Renee B. asks, "This is my first year growing summer squash. Any tips?"
Sue L. asks, "My zucchini plant isn't making fruit. It has lots of flowers, but they just drop off. Help!"
The basics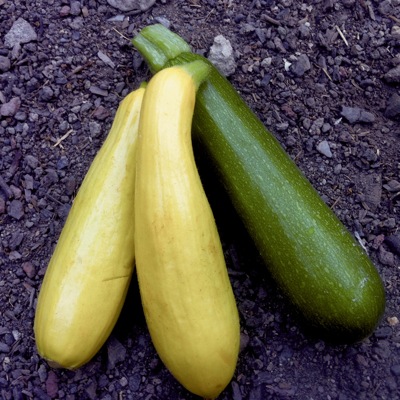 Summer squash is justly famous as one of the easiest and most productive vegetables to grow and is ideal for the new gardener. Just put the large seeds in the ground and in a few weeks you will have plants that are a foot wide and producing big, beautiful yellow flowers. Most people know the Summer Early Crookneck and Summer Dark Green zucchini varieties, but there are also quite a few unique varieties, like the beautifully striped Cocozelle, the squat Yellow Scallop, the ball-shaped Ronde de Nice, and the stunning Climbing Trombetta.
Did you know summer squash and winter squash (including pumpkins) are all in the same family, and can easily cross-pollinate each other? And more interestingly, all squash plants are monoecious, which means there are separate male and female flowers on the same plant. It is easy to tell which is which. The first flowers are usually male and won't produce any fruit. These have pollen producing stamens clustered together in a column (these shrivel without producing fruit). They will soon be followed by the productive female flowers, which have what looks like a tiny fruit behind the petals (this is the ovary). It quickly becomes obvious when a female flower has been pollinated because it starts to swell into the familiar looking fruit (if it isn't pollinated it simply shrivels up).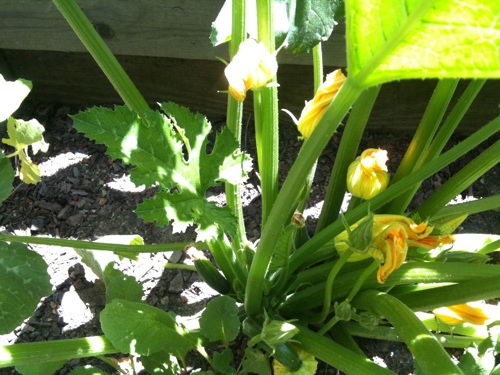 Hand pollinating
If your plants aren't producing fruit, it may not be attracting enough pollinators, and you may need to hand pollinate your flowers. Don't worry, it's quite easy. Find a male flower and a female flower (ideally, from different plants). Remove the petals from the male and brush the pollen-laden anthers on to the pistil lobes of the female. This procedure should work about 50 to 75% of the time, especially if you use two males flowers to pollinate each female.
Saving seeds
If you are only interested in obtaining fruit it doesn't matter where the pollen comes from, but if you wish to save seed it is significant. Plants cross-pollinate readily and to keep a variety pure you have to ensure it is pollinated by another plant of the same variety. The easiest way to do this is to grow only one variety at a time, and have no others within a half mile. If you grow more than one variety you should hand pollinate the flowers. Since you want to control the pollination, you will need to go out in the evening and find some male and female flowers that are about to open the following day and tape them shut with ¾" masking tape. The next morning, use the steps above to hand pollinate the female flowers, and then tape it closed again (to prevent further pollination). This will ensure they aren't accidentally pollinated by a different plant. It's a good idea to mark the pollinated fruit so it isn't accidentally harvested. And then you wait. The fruit must be left to mature fully on the vine. The fully ripe fruit will be big and woody like a Winter Squash. It can take at least 60 days for the fruit to ripen properly, so you need to allow plenty of time before frost.
Enjoy the flowers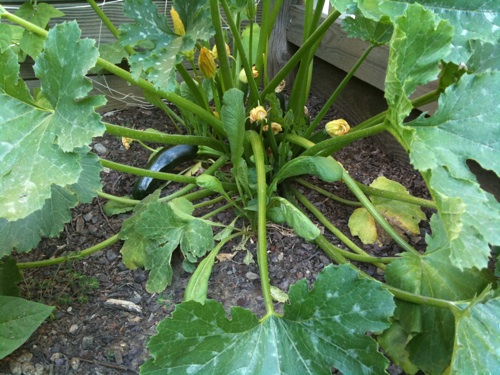 To ensure there is always plenty of pollen available, the plants produce many more male flowers than females. These excess males don't have to go to waste though, as they are edible and can be used to provide a variety of exotic dishes (just make sure there are no insects inside them). They can be eaten raw, fried, baked, made into soup, filled with cheese (they have been called natures ravioli) or placed inside a quesadilla. The pollen producing stamens are usually removed because they can be somewhat bitter. While they are becoming increasingly common at farmers markets, these flowers only last for a day or two, and are mostly a special treat for the gardener.
If you have made the common mistake of planting too many squash plants, you can reduce the volume of fruit you are harvesting by eating some of the female flowers too. These can be used in the same ways as the male flowers but are slightly more substantial.