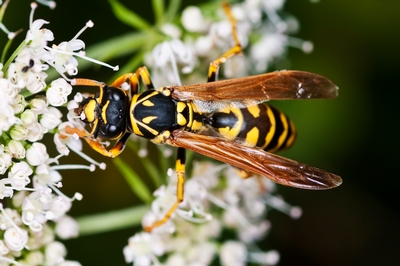 Beneficial predatory insects are an important element of an organic pest control strategy. Unless you have a serious problems, if they are living in your garden they will help to control pests without you having to do anything. While some insects, like ladybugs, can be purchased and released in your garden, you don't really have to work at attracting beneficial insects, just provide the simple things they need and they will come.
Food
One of their requirements is a source of food, which mainly means lots of small nectar and pollen producing flowers (many beneficial insects are very small and have difficulty feeding from larger flowers). Plants of the carrot (Apiaceae), daisy (Asteraceae) and mint (Lamiaceae) families are all particularly good. This is why the herb garden is always alive with insects and is another good reason for planting many of these plants. Many weeds are good sources of food too. Highly bred garden cultivars aren't very useful because they are often sterile and don't produce much nectar or pollen.
Habitat
The other important need is for a diversity of undisturbed habitat, which gives them a place of refuge from predators and a suitable place to survive the winter (they won't survive in the ever changing annual vegetable garden, which is often bare in winter). This can be a simple border, with a diversity of perennials and shrubs to give them a place to live.