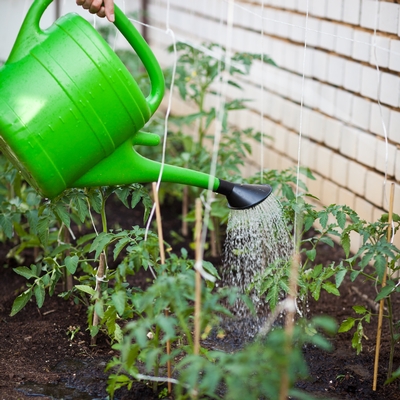 While the rest of the country has been under severe heat warnings and drought conditions, summer has finally arrived for us in California, and in my garden we have already passed the point where the vegetables can get enough moisture from the soil. Until the rains start again in late October it is up to me to supply enough water to keep them alive. This is the most important summer gardening activity and if it isn't done properly there won't be much of a vegetable garden.
There are four important steps to keep in mind when watering to get the most benefit:
Watch your plants
If you know what to look for it is easy to tell when plants are suffering from lack of water. The first sign is that they lose the sheen on their leaves and start to sag slightly instead of standing rigidly upright. It is important to water immediately when you see this happening, as further stress will slow their growth. More extreme signs of water stress include curling leaves, floppy growing tips and dying leaves, all of which means the plant is severely distressed and has stopped growing.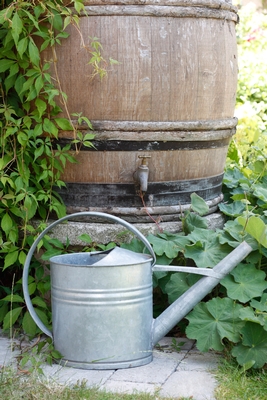 Simple wilting of leaves isn't always a sign of stress however. Many plants (especially those with large leaves such as squash and cucumber) do it intentionally in hot sunny weather as a means of reducing water loss. They recover quickly when the temperature drops though, whereas water stressed plants recover more slowly. This is why you should check plants for water stress in the cool of early morning or evening and not in the midday heat.
Sunflowers are particularly prone to water stress (they wilt before almost anything else) and can be used as a living indicator of when the soil is starting to get dry. Simply plant a few sunflowers in your garden bed and when they show signs of wilting, it is time to water the entire bed.
How much water to apply
The usual rule of thumb says you should give your plants 1″ of water per week in summer and about ½" in spring and fall. An inch of water means ⅔ gallon per square foot, or 66 gallons per 100 square feet and should be enough to penetrate 6″ to 12″ into the ground.
Though 1″ per week is a reasonable average to start with, it is only a guideline and will be altered by temperature, humidity, soil type, crop and more. You have to look at the plants and the soil to determine if you are watering enough and adjust accordingly. After watering the soil should be evenly moist all the way down. Probably the commonest mistake of beginner gardeners is to water only until the soil surface looks nice and wet and then move on. Appearances can be deceiving though and only an inch or so down the soil may still be completely dry. If your plants are wilting again within 24 hours you didn't give them enough water.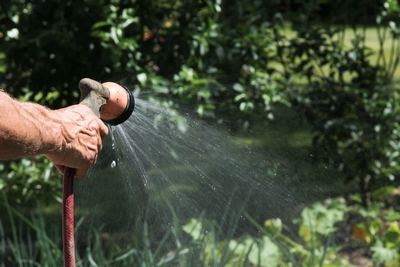 Time of day to water
In hot weather you should avoid watering in the middle of the day, because any water that lands on the leaves, or the soil surface, will quickly evaporate and be wasted. Water either in the morning, or early enough in the  evening so that wet leaves can dry out before nightfall.
How to apply water
Water should only be applied to the soil as fast as it can soak in. If you apply water faster than this it will puddle and the surface structure may break down. Water may also run off of the bed and be wasted (it may also take soil with it).