July is National Blueberry Month, and we're celebrating with lots of information and recipes.
As I mentioned last week, I just can't get enough blueberries this season. I've been eating them in nearly every meal. In fact, my go-to salad for lunch has been some variation of this salad.
I almost always have some kind of soft cheese in the fridge. Lately, I have been buying different kinds of chèvre to use in various salads. It's especially delicious with sweet salad ingredients, like beets. Or blueberries. In this case, I've boosted the blueberry flavor by using a blueberry chèvre.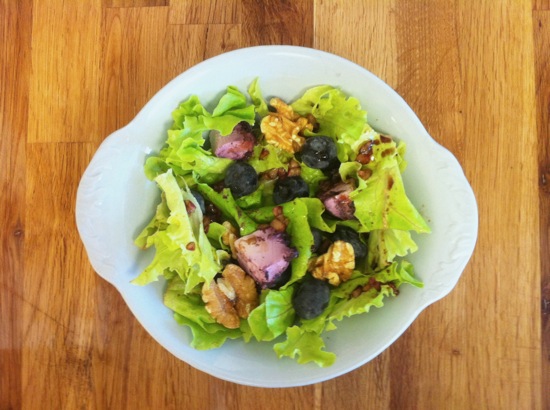 Plain chèvre also works quite well, as does honey chèvre, and surprisingly even the herbed chèvre.
Blueberry Chèvre Salad
1 cup fresh lettuce
10-12 fresh blueberries
2-3 tbsp chèvre
1 tbsp finely chopped red onion
1 tbsp balsamic vinegar
1 tbsp olive oil
4-6 walnuts
dash sea salt
When I'm making a salad for lunch on the go, I assemble the salad in two containers. One has the lettuce, berries, walnuts and cheese. In a smaller container, I mix the oil, balsamic vinegar, onions and salt. I dress it just before eating it to keep the lettuce (and cheese) from getting soggy.