July is National Blueberry Month, and we're celebrating with lots of information and recipes.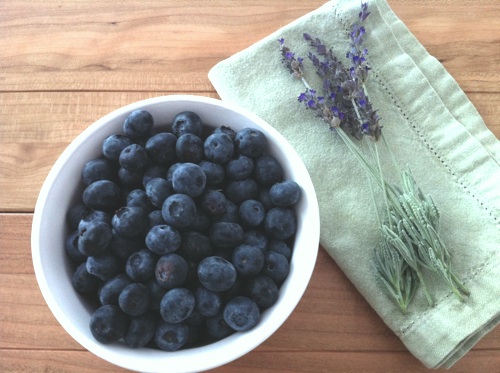 Blueberries and lavender are almost perfect partners. The sweet, juicy blueberries pair nicely with the pine-y, spicy flavor of lavender. And they both are in season at the same time, which makes it easy to come up with lots of delicious recipes.
Taking a look at our Pinterest wall, one of the most popular pins going around is a recipe for a refreshing blueberry lavender spritzer cocktail, which looks like a refreshing drink for a hot day. Another popular recipe making the rounds is for blueberry lavender ice cream, which looks sweet and rich.
While I have enjoyed the lavender cocktails and ice cream I've tried, I thought a blueberry lavender combination would be perfect for a cream scone. Mother Nature has cooperated, as the weather here in Northern California has been a bit cool and gray — perfect baking weather. I took my favorite scone recipe (loosely based on the Smitten Kitchen scone recipe) and added fresh blueberries and fresh lavender. You can substitute frozen berries and dried lavender quite easily. Just reduce the amount of lavender to about 2 teaspoons or so. Keep in mind that lavender, like rosemary, has quite a strong flavor, and less is often better. These scones are so light and flakey, with big, sweet berries, and just the right hint of lavender. They're perfect with a cup of Ceylon tea.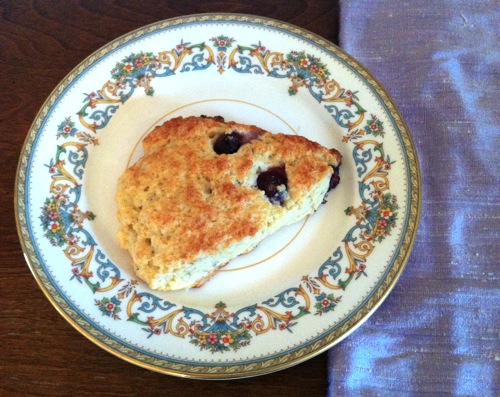 Blueberry Lavender Cream Scones
2 cup all purpose flour
1 tablespoon baking powder
1/4-1/2 teaspoon salt
1 tablespoon fresh lavender buds
4 tablespoons butter, chilled and cut into small pieces
1/2 cup fresh blueberries
1 cup cream
1 egg
2 tablespoons milk
sugar
1. Mix dry ingredients, including lavender. If you're using a food processor, this should be a quick 8 or 10 pulses. I like to get the lavender buds a bit broken up, to keep from eating a whole bud while eating. If you are using unsalted butter, add the full 1/2 teaspoon. If you are using salted butter, reduce the amount to 1/4 teaspoon.
2. Add the chilled butter in small cubes so that they're evenly distributed in the dry mixture. If you're using a food processor, remove the lid and place them evenly around the blade. Pulse the mixture 10 or 15 times, until the mixture resembles course meal. Don't over mix, or you run the risk of melting the butter. Transfer to a large bowl. If you're mixing by hand, use two knives or a pastry knife to blend the butter in evenly.
3. Make a well in the center of the dry ingredients and pour in the cream, gently stirring it in, making sure to scrape the sides often. Once the mixture starts to come together, turn it out onto a lightly floured surface and very gently knead it only until the liquid is evenly distributed. Don't over-knead, or you risk melting the butter and activating the wheat gluten. Both are disastrous to flakey scones.
4. Flatten the dough and pour the blueberries into a small mound in the center. Turn the sides of the dough up around the blueberries, trying to cover as many blueberries as possible. Gently work the dough around the berries, picking it up and turning it as necessary. Three or four turns should be enough to have worked the berries in evenly.
5. Place the dough in a greased round cake pan and evenly spread it to fill the whole pan. Chill the pan in the freezer for up to 1 hour. This will help keep the butter cool.
6. Cut the dough into 6 or 8 portions, and remove each from the pan using a knife or cake server to keep it from sticking. Place scones on a cookie sheet lined with parchment paper. Mix together the egg and milk and brush on the tops. Sprinkle with sugar. Bake in a 425° F oven for 10 to 15 minutes, or until the tops start to color.
7. Allow the scones to cool for at least 10 minutes. Serve warm for a delicious treat. Store remaining scones in an airtight container for up to three days, or freeze immediately.