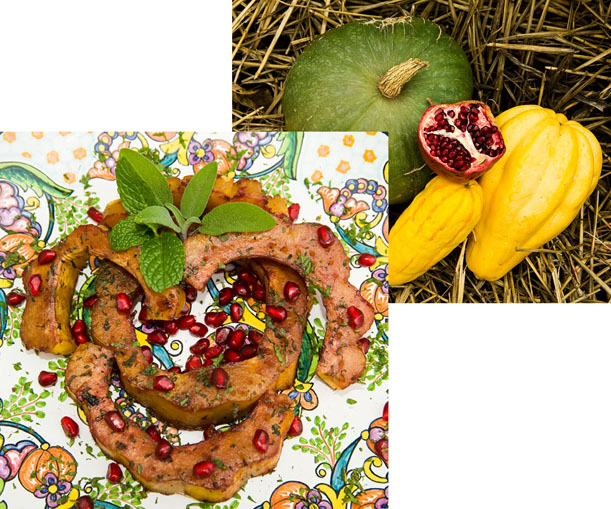 This is the time of the year when we can still enjoy the winter squash we've stored from our fall harvest. Even though squash will keep for months, I like to use them within two months of harvest because they tend to maintain an even texture. I find the combination of fall squash and fresh pomegranate creates a seasonal flavored dish. I grew white acorn squash this year and  wanted to try it in this recipe.  However both butternut and kabocha have a deep rich texture that make them ideal for this recipe as well.
Squash and Pomegranate seem like a natural pairing since the the slightly sweet and sour note of acidic tannins in the juice of the  Pomegranate compliment the sweetness of the squash. The pomegranate makes an excellent sauce for caramelizing and adds a colorful and fresh touch to the overall presentation.
(Serves 4)
1 large white acorn squash ( about 3 lbs)
3 tablespoons of olive oil
6 dried sage leaves
1/4 teaspoon freshly ground pepper
1 tablespoon of maple sugar
8 tablespoons of pomegranate juice
1/4 cup pomegranate seeds
2 leaves of mint
1) Preheat the oven to 375 and place rack in the middle of the oven.
2) Peel the squash, cut in 3/4″ round slices and place in a mixing bowl.
3) Mix olive oil, sage, pepper, maple sugar, and 4 tablespoons of the pomegranate juice. (You can substitute pomegranate molasses if fresh isn't available, using half the amount called for in the recipe) Toss the squash in the mixture.
4) Place the squash in a shallow baking dish and roast for 20 minutes. Remove pan from oven, flip the squash over and baste with half the remaining pomegranate juice. Move the squash pieces around to ensure even roasting. Cook for another 20 minutes, then baste with the remaining pomegranate juice and let cook until squash has completely caramelized. The squash should be tender throughout.
5) To serve place the squash on a serving dish. Finely chop the mint and sprinkle over the squash along with the pomegranate seeds. Best served while hot.