Chervil (Anthriscus cerefolium) is related to parsley, and has a flavor similar to Tarragon. Chervil's lacy leaves are finely cut and light green, as delicate and dainty as their flavor is subtle. The classic herb is essential in French fines herbs mixtures and is often used as a Tarragon substitute. Chervil has a refined taste reminiscent of Anise and Parsley, delicious in salads or to highlight sauces, sautés and soups. Because it can be difficult to find in the grocery market, Chervil is an important herb for kitchen gardeners to grow – its special flavor rewards your efforts many times over.
Chervil is best grown from seeds sown directly into the soil. It develops a long taproot, and does not transplant well. It prefers a cool, moist location, otherwise it tends to bolt. Even so, it is a good plant for succession sowing, so even if it bolts, the new plants can still be harvested.
Herbed Carrots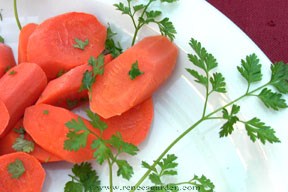 1 pound fresh carrots, peeled and cut
1 tablespoon olive oil
2 tablespoons chopped fresh chervil, divided
1 teaspoon unsalted butter
salt and pepper, to taste
Preheat the oven to 400˚ F. In a mixing bowl, toss the carrots with the olive oil and 1 tablespoon chervil, and salt and pepper. Place the carrots on a baking sheet and roast for 20 minutes.
Remove the carrots from the oven. While the are still hot, toss with the remaining tablespoon of chervil, the butter, and more salt and pepper, if you desire.