When asked to think of summertime veggies, most may think of plump, ripe, red tomatoes, but I, on the other hand, think of corn. I remember driving with my grandma as a child and stopping along a long, windy backroad in western Maryland to nibble on corn straight off the stalk.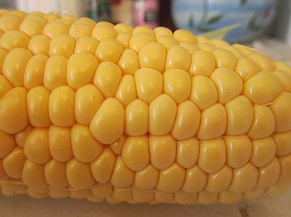 As I got older and learned to cook, fresh corn from my mom's garden became my favorite ingredient to use. I love it in the kitchen because you can serve it fresh or cooked, and it's great for grilling. Anyway you slice it, corn is a great crop to grow in your backyard!
Corn (Z. mays), also known as Maize, is a unique crop originating from Mesoamerica where it was so prized it had its own deity among the Aztecs — Centeotl. In North America, the Native Americans used corn as one of the Three Sisters — a planting method that incorporates tall, hungry Corn; climbing, nutrient-providing, Beans; and short, sprawling Squash — which is still used by organic gardeners and permaculturalists today! Unlike other vegetables from the garden, corn can be used to make a variety of things from biofuels to animal fodder. Due to its ability to be transformed, corn has become a highly controversial crop regarding Genetically Modified Organisms (GMOs) and industrial agriculture. Don't worry, SmartGardener.com offers numerous varieties of Heirloom and Organic corn varieties that are GMO-free.
Hopefully your corn has already been planted! A sure way to know you'll have a great crop this year: Knee high by the Fourth of July!
Corn Chowder
Serves 4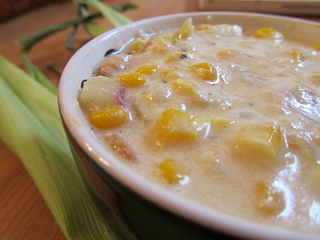 2 ears of corn — kernals removed (2 cups), cobs cut in half and reserved
1 cup yellow onion, chopped
1/2 cup celery, chopped
1/2 cup carrots, chopped
2 tbsp butter
4 cup milk
1 bay leaf, dried
1 cup red potatoes, diced
1/4 cup red pepper, diced
1/2 tsp thyme, dried
salt and pepper to taste
Melt 2 tbsp of butter over medium-high heat in a large saucepan. Add onions and let cook about 5 minutes until translucent. Add carrots and celery and sauté for about 5 more minutes.
Stir milk into the mixture, and add cobs, and bay leaf. Bring to a boil, then reduce the heat to a bare simmer–on the lowest possible temperature while still simmering. Allow to simmer for 30 minutes, checking on it regularly.
Discard cobs and bay and slightly raise the heat. Add potatoes, red peppers, 1/2 tsp of salt, and pepper to taste. Cook for 10 – 15 minutes, until potatoes are tender.
Raise heat a little more and add corn and dried thyme and cook for 5 more minutes. Serve immediately.