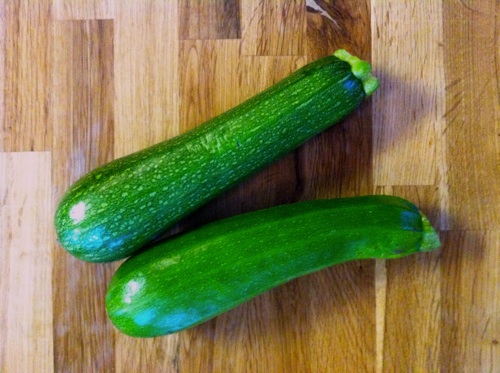 Zucchini is probably the most common, and most often maligned, of the summer squashes. In some parts of the country it's said that in late summer, neighbor turns on neighbor when the zucchini ripens. Garrison Keillor once joked that in August, the normally trusting citizens of Lake Wobegone would lock their car doors when they went to church on Sunday, to prevent some dastardly gardener from loading up their car with bags of zucchini. And we all laugh, because we know there's some truth to that. After all, there's a reason there's a National Sneak Some Zucchini on your Neighbor's Porch day, right? (In case you're wondering, it's August 8.)
But zucchini isn't really as bad as all that. Sure, they'll grow to an almost ridiculous size if you leave them on the vine long enough. But harvested when they're still quite small, they're very easy to deal with. And they cook up very quickly at this size. Since we usually grill our way through the summer so we can enjoy as much outside time as possible, my favorite method for cooking these small zucchinis is to coat them with a little garlic-infused olive oil and grill them.
Grilled Zucchini with Garlic-Infused Olive Oil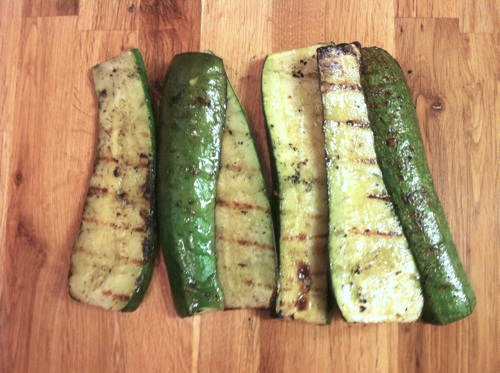 2-4 small to medium zucchini, sliced lengthwise
1/4 cup olive oil
2 cloves of garlic, minced
1. Mix the olive oil and garlic in a small sauce pan and heat over medium for about 20 minutes.
2. Place zucchini slices in a shallow dish and brush each slice with the  oil mixture. Allow the coated slices to sit for about 20 minutes, while the grill heats.
3. Once the grill is hot, place the slices on the hot grill and brush with the remaining oil mixture, making sure they're covered evenly. Cook for about 15 minutes on medium heat, or until they are the desired texture. We like ours a bit toothy, so we take them up just as soon as they have good grill marks.