Lavender is one of the most popular herbs mentioned when people are asked to name their favorite scented plant, second only to roses, and maybe lilacs. English Lavender (Lamiaceae Lavandula angustifolia) is the most common type of lavender grown for commercial purposes. Its fragrance can't be met by the other types of lavender. It also makes a great landscape plant, especially in colder climates. In warmer climates, you'll find Spanish or Mexican Lavender, which also has a nice fragrance, but isn't as strong.
When you think of lavender, you probably think of sachets, potpourri, body lotions, and relaxing bath fizzes. But did you know there's a rich culinary history of using lavender in the kitchen? Its flavor is a pleasant change when added to savory dishes in place of rosemary, and it is delightful when paired with sweets. Just remember, a little goes a long way.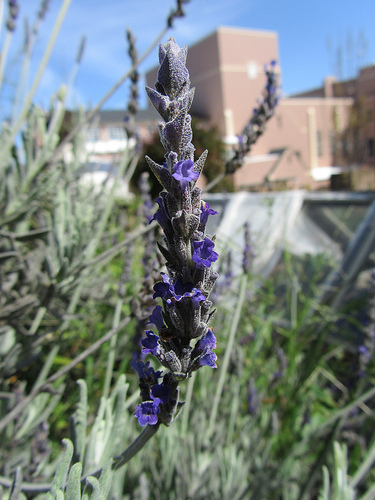 Lavender Lemon Shortbread
1 cup flour
1/3 cup sugar
1 stick unsalted butter, softened
½ tsp salt
1 tsp lavender flowers, dried
1 tsp lemon zest, finely grated
In a mixing bowl combine chopped lavender, lemon zest, and sugar. In a hand-held mixer at moderate speed, beat the butter into the sugar mixture. Add in flour and salt and mix on low speed, until it begins to form a soft dough (you can do this all by hand, too, it'll just take longer!). Transfer to a sheet of wax paper and refrigerate for 20 minutes. Roll out to a log that's 4" thick and refrigerate for 45 more minutes.
Preheat the oven to 350˚F. Cut the shortbread log into rounds, ¼" thick. Place on an un-greased baking sheet and freeze for 10 minutes. Bake shortbread in oven for 20-25 minutes, until very slightly browned. They will stiffen up once out of the oven so don't overcook them. Transfer to a wire rack and allow to cool before enjoying.