Oregano (Origanum vulgare) is an aromatic perennial that is essential to Italian and Greek cooking. It is also known as Wild Marjoram and is a close relative of Marjoram. Oregano is native to the Mediterranean, and loves full fun.  In areas with milder winters, it is grown as a perennial. In areas with colder winters, it is treated like an annual.
One of the remarkable things about oregano is its ability to compliment so many different flavors. It goes well with spicy and savory dishes, like chili and soup, as well as sweet and citrus dishes, like salads and glazes. Oregano is typically paired with basil in tomato based dishes, and is a standard in pizza sauces. In some pizza restaurants, shakers of dried oregano are found on the table next to the salt and pepper. It is also common in many Greek dishes, including the standard Greek salad, with sun dried tomatoes, feta, black olives, anchovies, and olive oil.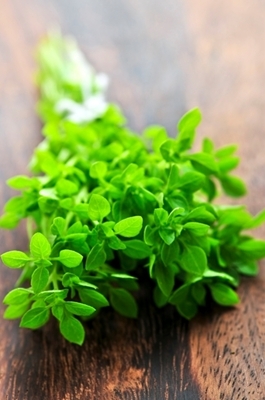 Lemon Garlic Oregano Dressing
1/3 cup olive oil
1/4 cup fresh squeezed lemon juice
1/4 cup fresh oregano, finely chopped
1 tsp lemon zest
3 garlic cloves, minced
1 tbsp Dijon mustard
1/2 tsp salt
1/2 tsp pepper
Whisk together lemon juice, lemon zest, oregano, garlic, salt, pepper in a large bowl. Add the olive oil in slowly, whisking it into the mixture evenly.
This makes a wonderful, flavorful yet light salad dressing, perfect for spring vegetables.
It can also be used to dress grilled chicken, pork chops, and even fish. Oregano doesn't keep its flavor if it is cooked for too long, so it is generally best to add it near the end of cooking. Whether grilling or roasting, simply cook the meat until it is done and then add the meat to a baking dish, cover it evenly with the dressing, and cover. Let it sit for about ten minutes, and then it is ready to serve!