Peppermint (Mentha × piperita) is actually a hybrid of watermint and spearmint. With its parentage, you'd be right if you guessed it loves moist conditions — in the wild it is often found growing along the sides of creeks and ditches. In older gardens, it can usually be found under leaky faucets.
If you have ever grown mint, you probably also already know how invasive it can be. It doesn't generally produce seed, but instead propagates by sending out underground runners, and can be easily restrained by taking simple measures, such as keeping it in pots or contained beds, or staying vigilant at trimming it back.
Mint has long been used in medicinal potions. It has a high menthol content, and its oil can be found in all kinds of products, from ice cream to toothpaste. While usually associated with iced-tea, and as a garnish for desserts, mint also adds a simple, fresh flavor to many typically savory dishes. Lamb with mint jelly is a popular dish in many parts of the world. In India, fresh mint leaves are often added to lightly cooked vegetables.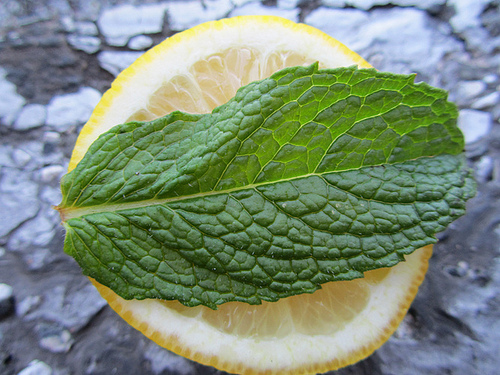 Spring Salad

1 cup uncooked quinoa
1 medium carrot, shredded
1 cup fresh green peas, blanched
3 green onions, sliced
1 tablespoon extra virgin olive oil
1 clove garlic, crushed
1 tablespoon fresh lemon juice
3 tablespoons fresh mint, chopped
Rinse and cook the quinoa following the instructions on the package. You can prepare the quinoa the day before and allow it to cool overnight, but you can also spread it out on a baking sheet and place in the fridge while you prepare the rest of the ingredients.
In a large mixing bowl, mix the carrots, peas, and green onions and add the garlic, olive oil and lemon juice. Stir in the cooled quinoa, until all the ingredients are well mixed. Add salt and pepper to taste. Sprinkle the top with the chopped mint leaves and serve.