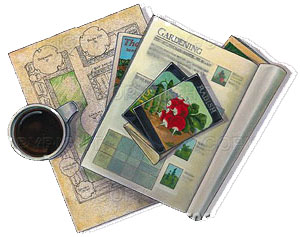 November isn't quite over as I write this, but already the seed and fruit catalogs have started to arrive. They will increase in frequency through December and into January and then peter out in February. No doubt they arrive at the most convenient time from the perspective of the seed production business and for the convenience of spring seed starting, but by coincidence it is also a master stroke of marketing. They just happen to arrive when gardeners are first starting to experience garden withdrawal symptoms. We may have been confined inside by inclement weather for weeks and are starting to pine to be outside doing garden things (we have already oiled the wooden handled tools with linseed oil and sharpened everything that needs sharpening).
Perusing seed catalogs has long been a treasured ritual among avid gardeners. We curl up with them by the fireside on cold winter nights (hot cocoa and fuzzy slippers are optional but recommended accessories).  Our catalogs allow us to dream about vegetables and gardening even if our gardens are actually frozen solid beneath three feet of snow (not very likely in the San Francisco Bay Area where I live, but that's part of the mystique). We get to read and reread those descriptions of plump, sweet, tangy, succulent tomatoes and crisp, green, frilly lettuce and admire the glorious color photographs until our imaginations start to run wild, especially if there's brandy in the cocoa.
Of course we Bay Area gardeners are blessed in that we can actually get out and garden on any day of the year, weather permitting. So we can't get as intense a seed catalog experience as gardeners in Vermont. Nor would I say that receiving the catalogs is one of the highlights of the gardening year (they don't actually involve any gardening), but they certainly help to keep the gardening portion of my brain busy during the gap between Christmas and seed starting time.
Receiving seed catalogs predates the electronic age, but just because you love looking at them doesn't mean you can't use the Internet to do your buying. One of the great benefits of Smart Gardener is that you can not only plan out your vegetable beds for the next season and get immediate feedback on what you need to do to prepare and plant your garden, but you can also buy the seeds and starts you need all in one place.
If I get all the planning work done in early December, I can look forward to receiving a fat padded yellow envelope in the mail in time for Christmas. I get a little buzz of excitement as I open it, exactly like I used to feel as a child opening my presents. These days, new seeds and the anticipation of getting back into the garden is gift enough for me.