July is National Blueberry Month, and we're celebrating with lots of information and recipes.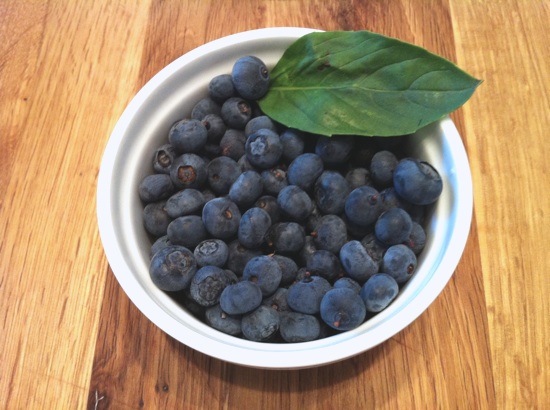 I just can't get enough blueberries this season. I've been eating them in muffins, pancakes, and scones. They've found their way onto my morning cereal, and even into a couple of salads for lunch. And, of course, lots of them are going over ice cream.
I've also been trying them in other recipes. Recently, I made a delicious savory sauce to go over grilled salmon. I came up with the idea based off my go-to salmon glaze recipe made with limes and soy sauce. I tweaked it a bit to emphasize the sweetness of the blueberries, and added some basil for a delicious surprise. It's also quite good over chicken, and even pork.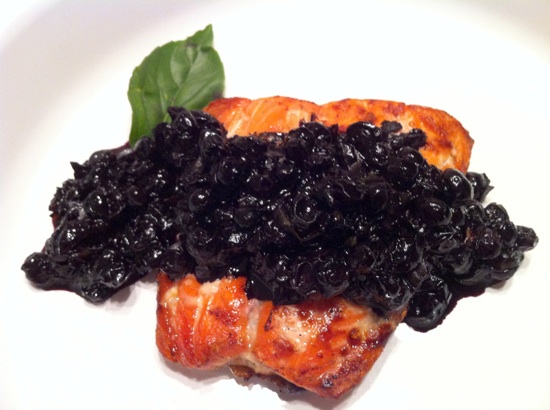 Savory Blueberry Basil Sauce
1/2 pint (about 6 ounces) of fresh blueberries
2 cloves of garlic, finely chopped
1/4 red onion, finely chopped
3 tablespoons balsamic vinegar
3 tablespoons fresh basil, chopped
2 tablespoons brown sugar (optional)
1 tablespoon oil
1. Heat the oil in a small saucepan. I used bacon grease, as that's what I do most of my sautéing in, but you can easily use olive oil or butter. When the oil is hot, add onions and garlic and sauté over medium for a few minutes, until they have softened.
2. Add balsamic vinegar and chopped basil. If you berries are a bit tart, you can add brown sugar or honey. I taste the berries before I start cooking, to see how sweet they are, and decide how much, if any, sugar to use. I also taste the sauce again while it's cooking, to be sure. Heat over medium until the liquid begins to thicken and bubble.
3. Add the blueberries and stir to mix well. Continue to heat mixture over medium. The berries will pop and release their juice. When it begins to thicken again, it's ready to go over your salmon.