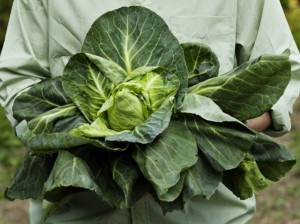 I was first introduced to cooked cabbage on a beach on Orcas Island in Puget Sound, where a friend sautéed it in a black iron skillet over an open fire. It was the only accompaniment to fresh barbecued oysters and, with its deep purple color was not only visually dramatic but surprisingly delicious. A vegetable I had  considered peasant fare took on a new status that afternoon and has stayed on my list of favorite vegetables ever since.
Cabbage may still not be the vegetable that entices you into organic gardening. It's not graceful like the climbing pea plant or dramatic like the artichoke. But it's an ideal crop for so many reasons. It is easy to grow and store, rich in vitamin C and several cancer preventing phytochemicals, high yielding, hardy (late varieties will survive temperatures down to 20˚ F) and can be harvested in cold weather after most other crops are finished.
If you live in a mild climate and have a nice crop of late season cabbage going in your garden now, you can let mature plants stand right through the winter in good condition. In fact, it is easier to leave them in the garden until you need them, protecting them with mulch if necessary.
Harvesting Cabbage
You can begin harvesting the first cabbage heads as soon as they are big and solid enough to provide a meal. Harvest by cutting through the base of the stem with a knife. Remove the roots after harvest, and compost or burn them to help prevent the buildup of disease. Then look to our blog for new ways to enjoy this versatile vegetable.
If a mature head begins to crack (this may be caused by excess nitrogen, aging or irregular water supply) harvest and use it promptly. The cracking won't affect its edibility, but it does affect its storage life.
If too many Cabbages are maturing at once, you can slow their growth by cutting through some of their roots with a spade. You can also twist the head a quarter turn, to break some of the roots.