Lemon Balm (Lamiaceae Melissa officinalis) is actually a member of the mint family, except instead of having a minty flavor, it has lemon-scented leaves. Traditionally, it was valued for its calming properties, and historically has been used to create tinctures for soothing nerves, reducing stress and anxiety, promoting sleep, improving appetite, and easing pain and discomfort from indigestion. It has also been used in several cosmetic applications, and makes a good facial cleanser for oily and acne-prone skin.
But did you know it can also be used to give a lemon flavor to many dishes and drinks. Here's a simple, delicious, delicately flavored  herbal iced tea recipe, just in time for summer!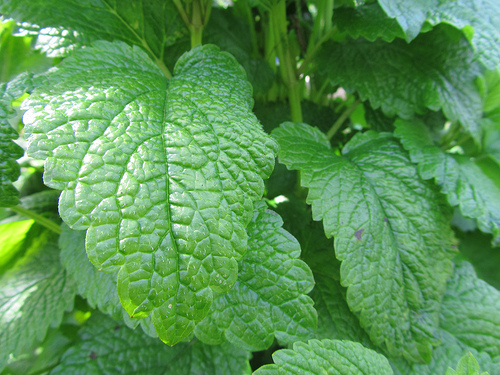 Summer Herbal Tea
(Adapted from Theresa Loe)
½ loosely packed cup lemon balm
½ loosely packed cup of mint
2 tsp Lavender flowers, dried or fresh
2 peels of orange, 3" long each
1 quart of water
Bring water to a boil, and pour over herbs and peel. Allow it to steep for 10 minutes, then strain to serve. Allow tea to cool and serve over ice for a refreshing treat.