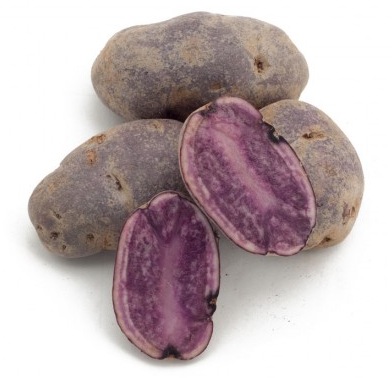 Earlier this week, I visited my local farmstand and saw bins of cute little red and blue potatoes next to another bin of tiny little "regular" potatoes, and felt it was only appropriate to buy some to make red, white, and blue potato salad to take to the family BBQ. And, one of my favorite things about being friendly with the farmer is the ability to ask questions about the vegetables. Turns out, they grow the same potatoes we offer: All Blue, All Red, and Yukon Gold.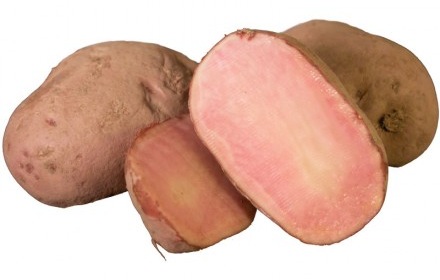 In this case, I not only got some info about the specific potatoes they grow, but got some good recipe advice! Like the advice to add some whole garlic cloves to the boiling potatoes, and to splash a couple of tablespoons of apple cider vinegar on the potatoes while they're cooling.
What I like about these potatoes are that the color goes all the way through. Not only do they have red or blue skins, but the flesh is red and blue as well. The color holds up during the cooking. And another great thing about using fresh potatoes is that the different flavors come through in the salad. This recipe, which is a variation on the suggestions made by my farmer-friend, really brings out the different flavors and colors!
Red, White and Blue Potato Salad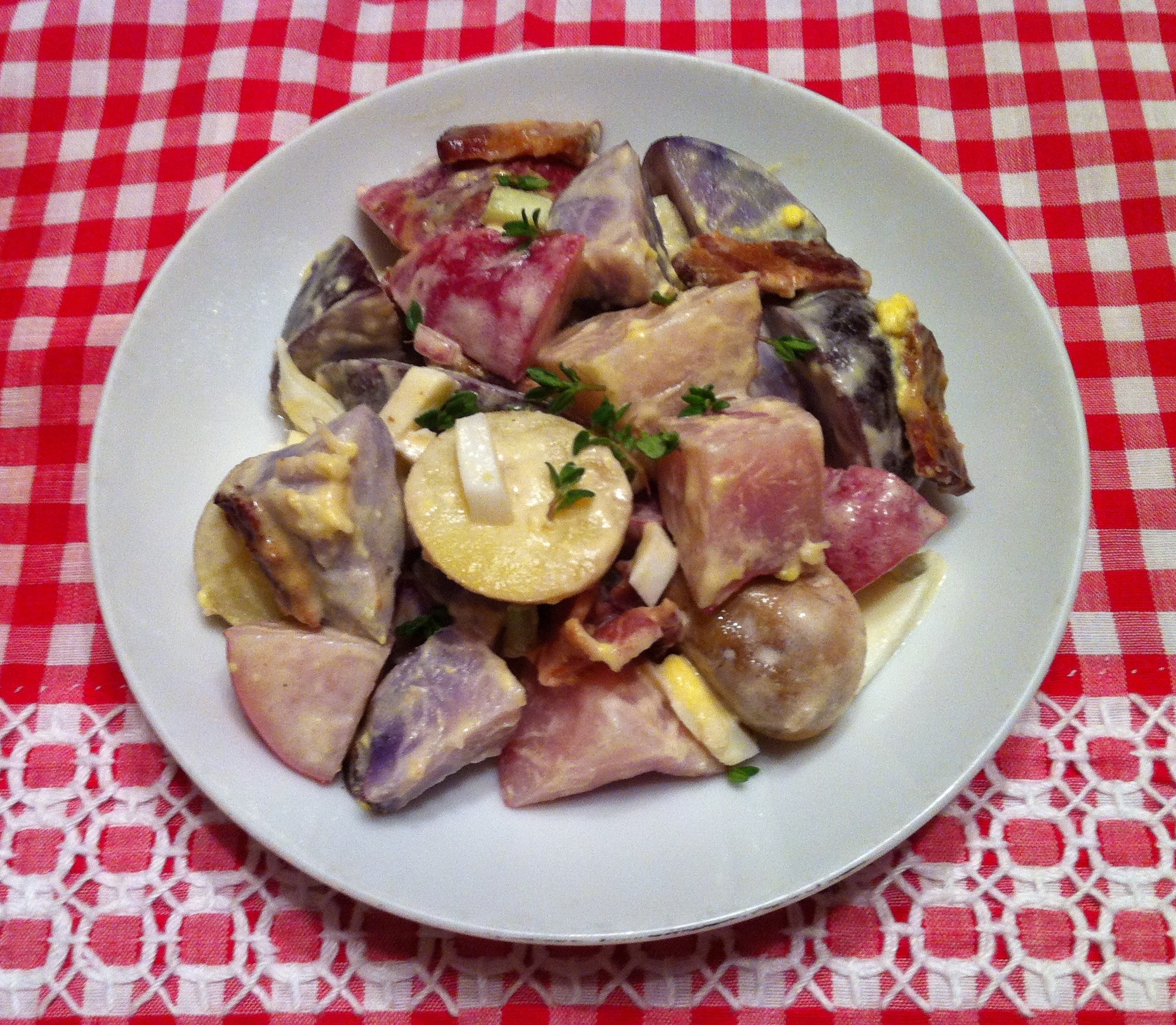 2 pounds potatoes – mixed
4 cloves garlic
3 tablespoons apple cider vinegar
3 eggs, hard boiled, sliced
1/2 pound bacon, fried
1/2 cup mayonnaise
1/2 cup minced red onion
1/2 cup minced celery
3 tablespoons Dijon mustard
2 tablespoons sweet pickle relish
fresh thyme or dill
1. Clean and slice potatoes into small cubes, approximately 1/2″ in size. Place potatoes in large pot and cover with water. Add peeled garlic cloves. Bring water to boil and let bubble until potatoes are just fork-tender.
2. Remove potatoes from heat, drain and rinse with cold water until potatoes are only slightly warm. Move potatoes to large bowl and add apple cider vinegar, using a spoon to gently stir potatoes until they are all covered with vinegar. Cover and place in refrigerator to cool completely (at least 1 hour).
3. Hard boil eggs. Cool in ice water or refrigerator. Slice into small pieces. Set aside.
4. Fry bacon. Drain and cool. Chop into 1/4″ to 1/2″ pieces. Set aside.
5. In small bowl, mix mayonnaise, mustard, relish, celery, and onion.
6. When potatoes are cool, stir in mayonnaise mixture until all potatoes are completely coated. Gently stir in eggs and bacon. Garnish with fresh thyme or dill.
We here at Smart Gardener want to wish you and yours a very happy Independence Day celebration. We hope it's filled with good food and good fun!