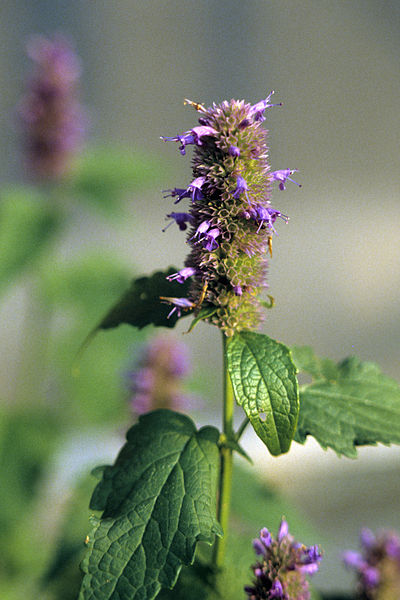 We are excited to announce the newest addition to our database — the lovely and delicious herb, Anise Hyssop (Agastache foeniculum). This native of the rugged northern plains (and much of Canada) may seem like a somewhat unlikely candidate for the refined habitat of the herb garden, but only until you taste it. The sweet and tender, anise / fennel flavored leaves are quite delicious and have become the favorite herb of my finicky 10 year old daughter. She loves it so much she eats the leaves almost as fast as they are produced, which makes her the only pest they have in my garden. This year I started a fresh batch from seed, with the intention of growing so much that I will get some too.
The sweet leaves are most often used for tea, but are also a nice addition to salads. The bright blue flowers can be added to salads as well (unlike many edible flowers, they add flavor as well as color), though individually they are quite small. This isn't a very important medicinal herb, though the tea has been used for coughs, fevers and to "relieve a dispirited heart".
Anise Hyssop is sometimes grown purely as an ornamental, for its bright, bold, blue flower spikes, though not to eat it too seems like a waste to me. The flowers are also very attractive to bees (it makes good honey) and other beneficial insects.
Anise Hyssop is a member of the mint family, but it spreads slowly and isn't invasive like some of its cousins. It prefers a moist well-drained, fairly fertile soil, but is quite a tough plant and can survive less than ideal conditions. It can be grown from seed, division or cuttings. Some people report problems in getting the seed to germinate (it is sometimes said it needs light to germinate), but I have always found it pretty straightforward (maybe it just needs to be fairly fresh). The flowers produce seed easily and in the right conditions it can self-sow so readily that it might be considered a weed, if it wasn't such a nice plant. If you don't have children around to nibble it daily it can grow to 3 or 4 feet tall.
Anise Hyssop is now available to add to your garden. You can find all of our available varieties by browsing under Herbs: