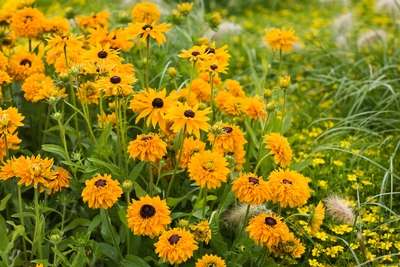 Calendula (Calendula officinalis) are are delightful flowers to having blooming in the garden — they add vibrant color and attract butterflies and bees and other beneficial insects. They are very easy to grow, tolerate poor soil, bloom all summer, and are prolific self-seeders. The seeds germinate easily in sunny locations and bloom within two months. In very hot areas, they grow better as a spring or autumn flower.
Also known as Pot Marigold, they are not the same as annual marigolds, although they are often found planted near each other in decorative gardens. Part of the daisy family Asteraceae, they are native throughout the Mediterranean region, from Northeastern Africa to Iran. The flower petals of the calendula plant have been used for medicinal tinctures and teas since at least the 12th century. Traditionally, calendula has been used to treat stomach upset and ulcers, as well relieve menstrual cramps. Today, calendula is often used topically, to treat wounds such as burns, cuts, and dermatitis.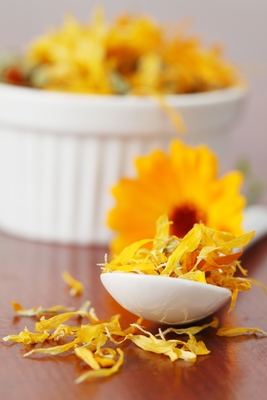 In fact, applications of calendula ointments may help wounds heal faster, by increasing the amount of blood flow bringing oxygen to the area, helping the body to grow new tissue. Calendula flowers are full of flavonoids, the plant-based antioxidants that protect cells from damage caused by free radicals. It is most often applied directly to the skin as a paste made by blending the fresh flowers with warm water, although it is sometimes used as a tea or rinse to soothe sore throats and inflamed mucous membranes. The dried leaves can be used in a tea, to make a tincture using alcohol, or to create aromatic oils.
Aside from the medicinal properties, calendula flowers make a wonderful, colorful addition to salads, and can be used as a substitute for saffron.
To harvest calendula petals, it's best to pick the mature flowers in the mid-morning, after the dew has dried. A simple way to dry the flowers is to spread them on a sheet or screen and place them in the shade, making sure to stir them several times a day. This will allow the petals dry evenly and slowly. If you have a dehydrator, that will work well too. Store in a air tight jar in a cool, dark location.

We now offer 11 varieties of calendula to add to your garden layout. There's the lovely creamy yellow and orange Kabloona, and the beautiful, frilly, creamy pink and yellow bi-colored blooms from Pink Sunrise. For more vibrant colors, the bright pinks, oranges, yellow, and bi-colored blooms of Flashback will perk up any garden.  Why not try a couple of different versions?