Basil (Ocimum basilicum) is one of the most common culinary herbs in the kitchen and the garden. It's incredibly easy to grow, so it's great for families that don't have much time to tend to their plants. It also makes a great windowsill crop for those with little outdoor space.
Once you grow it, it's not hard to find recipes for your basil. Pesto is a popular choice for Genovese Basil, and Thai basil is wonderful when added to Thai curries. Below you will find two simple recipes for basil that you're sure not to find in Mom's cookbooks.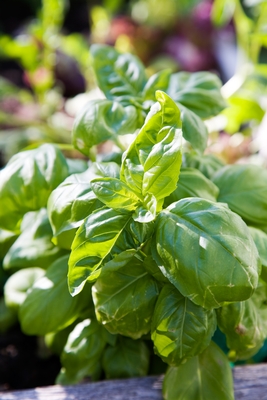 Basil Simple Syrup
1 cup sugar
½ cup water
3 large basil leaves
Bring everything to a boil, stirring regularly to ensure sugar is dissolved. Pour into a container and refrigerate until cold, keeping the basil leaves in the syrup. Your simple syrup will thicken more as it chills.
Use to make refreshing drinks, such as Basil Lemonade, or Cucumber Basil Gimlets. A great topping for Strawberry Shortcake, Peach Cobbler, Vanilla Ice Cream or Berry Sorbets!
Nam Manglak
(Thai Basil Seed Drink)
Recommended from Frank Tozer
2 Tbsp basil seed (from your basil plants, not from a seed packet)
2 Tbsp sugar
1 Tbsp honey
2 1/4 cups water
1 cup rosewater
Using a tea strainer, rinse the seeds. Soak the basil seeds in 1 cup of water. Use the other 1 ¼ cups of water and heat with sugar and honey until dissolved thoroughly. Taste it and adjust the sweetness to your preference—it will get more diluted once the drink is finished. Allow sugar water to cool to room temperature. Add swelled basil seeds with sugar water at room temperature. Chill and serve over crushed ice.
Faluda is another beverage made with basil seeds that is very popular in Southeast Asia. Its ingredients are very similar, although it has many variations.