Green beans are one of the many vegetable I prefer to eat fresh rather than canned or otherwise preserved. Which isn't to say there aren't great ways to put up any extra beans you have coming from your garden. Just that given a choice, I'd rather eat them today than in December.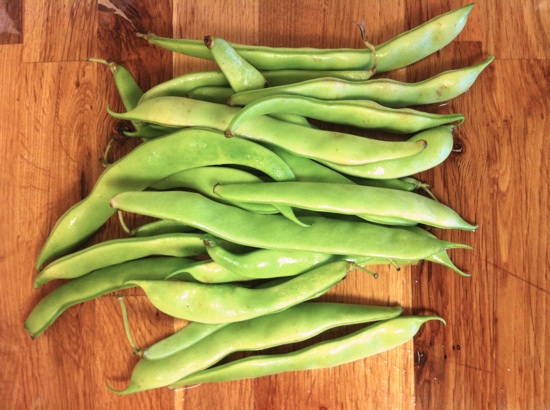 Keeping with our tendency to do as much outside cooking as possible while enjoying the cool evenings here in Sonoma County, CA, the latest batch of Spanish Musica beans to come from our CSA were grilled up alongside some very sweet corn on the cob and delicious locally-produced sausage.
Wrapped in foil, you can grill pretty much anything. Just add seasoning, a little butter or oil, and fold it up.
Grilled Green Beans with Bacon and Garlic
1/2 pound green beans
2 cloves garlic, minced
3 slices of bacon, cooked and chopped
2 tbsp oil
1. Rinse and trim the beans. Cook the bacon, drain and chop, reserving 2 tbsp on the grease.
2. In foil packet, mix beans with the garlic and chopped bacon. Drizzle with the oil. You can use olive oil or even butter, if you wish.
3. Seal foil packet, making sure all sides are double rolled so none of the oil drips out. Place on the grill over medium heat and cook for about 20 minutes, turning once.
4. Open packet and serve!