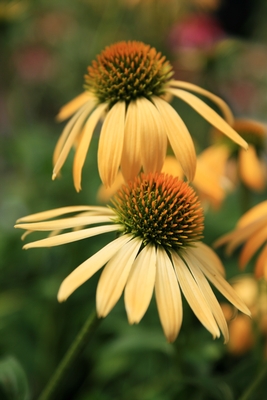 This unique cone-shaped flower is native to the United States, and makes a great addition to your garden. The plant produces beautiful purple-pink or yellow flowers with bright, pineapple-like capitula in the center. While many know this plant by it's flower, it's medicinal properties are highly concentrated in the roots–which are best harvested after the plant finishes blossoming.
Native Americans used Echinacea after observing sick or wounded elk eating the plant. The native peoples did not use it to treat colds, although they did use it for the common cold's side-effects including coughing, sore throat, and headaches. Now Echinacea is a well-known plant to use when ill. In fact, most tea blends that are marketed to help treat the common cold include Echinacea! Now you can grow your own Echinacea, and use the harvested root to make your own tea!
Cold Prevention Tea
1 cup Spearmint, dried
1/2 cup Lemongrass, dried
1/2 cup Echinacea root, dried
Combine all ingredients in a bowl. Store loose tea in an airtight jar or tin.
When ready to make tea, scoop 1 tablespoon into a loose leaf tea cup or pot. Pour just boiled water over and allow to steep for 2 to 3 minutes. Remove strainer an enjoy. Add honey or lemon for extra flavor, and extra prevention for the cold!
Echinacea is now available to add to your garden; you can find it by Browsing under Herbs.