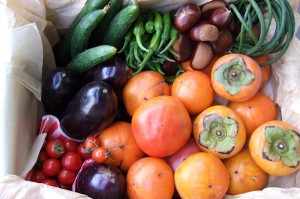 As the days grow shorter and the temperatures drop, many gardeners move indoors for the winter. But for those of us who live in a mild climate where we can grow late autumn and winter crops, we can keep right on growing as long as we pick the right crops, get them in the ground early enough and provide them with the proper protection.
Crop Selection
Some cool weather crops are much better suited to growing in autumn than in spring. Often by the time it's warm enough for plants to mature in spring, longer days will cause short-day crops (spinach and oriental cabbage) to bolt. The warm temperatures adversely affect their flavor as well. If you plant these crops in late summer, they'll grow quickly to start and then mature more slowly in the shorter colder days that follow.
For cold weather growing, stick to the tried and true hardy crops:
•    Broccoli
•    Brussels Sprouts
•    Cabbage
•    Carrot
•    Cauliflower
•    Chard
•    Citrust
•    Cornsalad
•    Horseradish
•    Kale
•    Jerusalem Artichoke
•    Leek
•    Mustard Greens
•    Parsnip
•    Turnips
It is important to use the right crop variety at this time of year, as hardiness varies considerably within a crop.
When to Plant
Fall and mild winter crops commonly take longer to mature because the sun is weaker and the days are shorter. To determine the right time to plant a fall crop, figure out the number of days it takes for it to reach maturation (adding extra days to allow for slower growth in autumn). Then determine the day you want them to mature (in areas with frost, this is normally just before the weather turns too cold for good growth). Subtract the number of growing days from the maturation date and you have the sowing date.
It's a good idea to plant a few successions at this time to make sure you get at least one crop before the frosts and possibly more if the frost is later than expected. If you rarely have frosts, you may be able to continue growing these crops through the winter.
Where to Plant
The beds for winter crops should receive all of the sunlight they can get, so make sure they won't be shaded. A south-facing slope is the best choice as it gets extra heat from the sun. You might shape your shape winter beds so they tilt slightly to the south to give them a little extra solar gain.
The beds should be well protected from cold winds. Don't plant the winter garden in a low-lying area, as it might be a frost pocket and much colder than a more elevated slope. The soil should also be well drained, as dampness is often as great as enemy of winter plants as cold is (much of the value of cloches and cold frames is due to their protecting plants from moisture).
Season Extension
The simplest season extending technique is to protect the tender crops from the first occasional autumn frosts. If protected, the plants can sit in the cold garden in an edible state for weeks before having to be harvested. The hardiest autumn/winter crops will continue bearing until temperatures drop down into the 20's.
The first frost may be followed by several weeks of good growing weather before the next one, so the simple act of covering your plants for a night or two may reward you with several more weeks of harvests.
A quick freeze will do a lot more damage to plants than a gradual decline in temperature (which gradually hardens them off). Happily you can get advance warning of an oncoming frost and act to protect your plants. Almost anything will give protection from a light frost:
•    cloches
•    cold frames
•    old blankets
•    row covers
•    plastic sheeting
•    hay or straw mulch
Cold frames and cloches can even protect plants from more severe frosts. Tall plants such as tomatoes can be unstaked and laid down on the ground for easier protection.
If your unprotected plants are hit by an unexpected frost you may be able to revive them by washing the frost off with a spray of water. This must be done before the sun hits them and thaws them out too quickly. You can also follow the example of commercial citrus farmers and leave a slow sprinkler going all night (don't turn it off until all ice has melted). But this wastes a lot of water.
You should protect the tender crops for as long as there is good growth in the daytime. It isn't worth protecting them once the days get cold, as they won't thrive. It is better to replace them with hardy crops. Or maybe you do want to take a break for a month or two and hibernate. If you've been diligent and canned, dried or frozen some of your earlier harvests, you can enjoy the fruits of your own garden until you're ready to start preparing again for the spring.